Pre-Engineered Buildings are highly efficient in design due to the synergy between building components and is ideal for a range of weather conditions including snow, high temperatures, high humidity, heavy rainfall, cyclone, wind speeds, seismic waves and so on.
We have constructed several buildings in various parts of the country including the various parts of the cyclone-prone state Odisha, such as Berhampore, Cuttack, Balasore and so on. Our knowledge in the PEB construction in such windy areas is based on years of experience and observation.
In this blog, we are going to discuss a few points because of which sheds tend to blow away and cause intense damage to the buildings in windy and cyclone-prone areas and how Pre-Engineered buildings designed and built by the ADSL team can be a perfect solution for this.
1. Design of the PEB shed
The wind speed of the area should be taken into consideration while designing a PEB shed. For example, in a cyclone-prone state like Odisha, we design the sheds taking into account an average wind speed of 180 km/hr to 190 km/hr so that they can sustain even intense cyclones of this wind speed.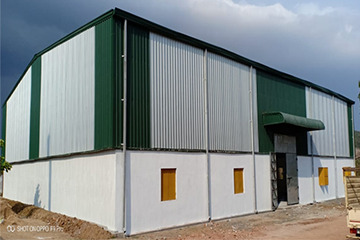 Design of the PEB shed in windy areas
This facility is not provided in fabricated projects and therefore their roofs often blow away in cyclones and procure other damages to the building. This makes PEB a better choice to avoid damages in cyclone-prone areas.
2. Air Gap between the roof and the wall sheet
An air gap always forms in the part where the roof sheet and the wall sheet intersect each other. During strong winds when air gets through this gap, it creates pressure in the upward direction over the roof sheet and then manages to blow it away. This causes immense damage to the establishment and is also risky for the residents of the building.
We make sure to leave no such gaps in the Pre-Engineered Buildings and close the gaps by L-flashings, drips and so on. This prevents air from entering the gaps and prevents the sheets from blowing away.
3. Bracings on both the bays in PEB
Bracing is provided on the first bay on both sides, that is, on the roof and the wall of the Pre-engineered Buildings. This helps the building to sustain the wind pressure and also provides stability to the shed, especially in cyclone-prone areas.
These factors overlooked in the case of fabricated buildings and are often altered upon customer demand, whereas in PEB designs, importance is paid on the position of the bracing, depending on the wind speed in the region of construction. This provides stability to the buildings and prevents them from being damaged by strong winds and cyclones.
4. Shutter size of a PEB shed
Larger shutters are weaker in strength and need support from the ends to sustain against strong winds. Therefore it is ideal to keep the shutter size to a maximum of 4m by 4m or 5m by 5m in windy and cyclone-prone areas to protect it from structural damage.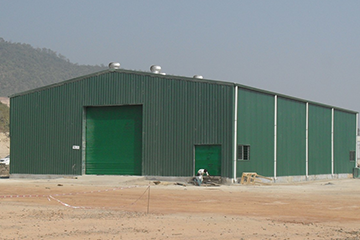 Shutter size of a PEB shed
5. The number of fasteners and their spacing
The number of fasteners, their quality and spacing in the roof and wall sheets should be taken into consideration while building a shed.
The quantity of the fasteners that we use is set by parameters as per our calculated data and years of experience. Also, a quality check is always followed in Pre-Engineered Building constructions and is the main reason why they face less damage and do not blow away in cyclones.
Local fabricators do not provide this quality of design and thus, the sheds are more prone to get damaged in cyclones.
We understand that PEB constructions involve a lot of investment, in terms of time, energy and money, and therefore, we aim to provide you with the best solutions to protect your PEB structure from the damage caused by devastating natural calamities such as cyclones. We hope that these points will help you to gain some insights so that you can choose wisely while constructing your next commercial project.
Adi Durga Steel Raipur has been in the steel industry for the last 30 years and has been dealing with PEB structures from the last 10 years. We aim to construct the most efficient and fast PEB in Eastern India and satisfy various structural and aesthetic needs. We use standard modern-day technology to make safe, efficient and affordable constructions that suit your need.