Colour coated sheets are predominently used for the aesthetic value they provide to a PEB structure. Apart from that they have other advantages like those of being durable and strong.
In this blog, we are going to share a few tips that would help anyone while buying sheets from the market in the future.
1. Colour coated coils are profiled to produce coloured sheets
Coloured sheets that are used in Pre-Engineered steel building projects are basically made from colour coated coils. These coils are made by coil manufacturers like JSW, Essar, Bhushan, and so on. These coils are then profiled by steel manufactures to produce colour coated sheets and the cut to size products are later sold in the market. We at Adi Durga Steel manufacture colour coated sheets by the same procedure. So the colour in the coils is done in the manufacturing plants of the coil manufacturers and the colour in the sheets comes from the colour coated coils.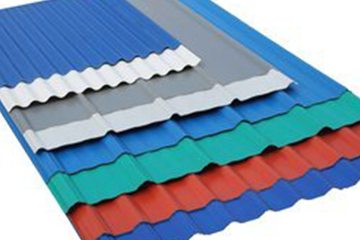 Colour Coated Steel Sheets
2. Why galvanized sheets?
Another major thing that the customer has to see through before finalizing the sheets or buying them from the market for their Pre-Engineered steel building project is that whether they are galvanized sheets or galvalume sheets. These sheets have been there in the market for years now. Galvanized sheets like GI 90 and GI 120 which usually have 345 MPA are still prevalent in the market.
Recently, new technology is popular in the market namely, Galvalume sheets. Galvalume sheets come in two qualities, namely, AZ 70 and AZ 150.
These sheets have their applications in a PEB structure depending upon the customer's requirements. If the customers have retail applications then they can go for AZ 70 but for industrial projects we recommend our customers to use AZ 150 coating of sheets.
3. Sheets of 0.5 mm thickness and 550 MPA are ideal to build a PEB
At Adi Durga Steel we usually operate with steel sheets of 0.5 mm thickness and 550 MPA for industrial projects. Whenever one goes to the market to buy sheets they must confirm the thickness and MPA value of the sheets as these play a major role in providing strength and support to the Pre-Engineered steel building.
4. Buy by weight rather than per piece and always ask for a test certificate
We at Adi Durga Steel recommend our customers to buy steel by priced by weight rather than per piece for the construction of their Pre-Engineered steel building. This is not only useful from an economical viewpoint but also helps to reduce the weight of a metal building as precise weight calculation is extremely important for large metal constructions. Knowing the total weight of the sheets also comes handy while arranging for transportation facilities and lifting facilities like cranes and hydraulics.
A manufacturer test certificate comes handy to be sure about the quality of the sheets and also for rental purposes. So one should always ask the vendor for a manufacturer test certificate before buying colour coated sheets from the market.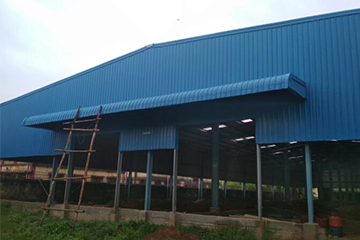 PEB with Colour Coated Steel Sheets
The rates of the steel sheets fluctuate according to the brands from where the colour coated coils are manufactured and the quality of these sheets fluctuates drastically according to their brands.
So whenever one decides to buy the sheets from the market they should make sure to check the thickness of the steel sheets, the type (galvanized sheets or galvalume sheets) and Mpa (ideally 550 MPA) of the sheets, the brand from where the coils are manufactured, and also ask for the manufacturer test certificate.
We hope that these tips will come handy for anyone planning to buy colour coated sheets from the market.
With an experience of over 30 years in the steel industry, Adi Durga Steel is one of the leading steel manufactures in Eastern India. We have been associated with PEB constructions from the last 10 years. Till date, we have worked on about 250 Pre-Engineered steel building projects. With the help of our experience and advanced technology, we make sure to deliver safe and efficient constructions at affordable prices. We aim to manufacture structures that would satisfy our customer's structural needs and aesthetic needs.