Hello everyone, although most of my readers are already aware of how PEB constructions take place, but for those new to this I would like to start again from the basics.
Pre-Engineered steel buildings are assembled on the site of construction and can be provided with skylights, wall lights, turbo vents, ventilators, doors and windows trusses, mezzanine floors, canopies, crane systems, insulators, and also a concrete-like finish on the walls from the outside, based on customers requirements.
Steel buildings also come with a Green Certificate which makes them ideal for the conservation of nature and it serves as an asset for retail purposes too. Also, read our earlier blogs to know more about the advantages of constructing a PEB.
In one of my previous blog, I gave you some tips on chosing the right vendor. But this list is exhaustive, there are so many do's and don't one needs to follow, so many decisions need to be taken, which, if not taken in advance, create confusion and rift leading to unhealthy business relations. So today I am going to discuss the details of a few more points that you should clarify with any PEB vendor before finalizing the PEB order -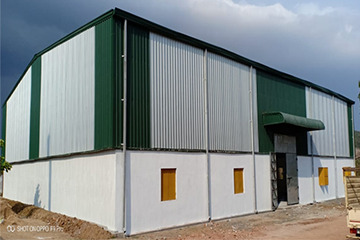 A Pre-Engineered Building
1. Check the scope of transportation
Firstly, before finalizing any PEB order, you should clarify with the vendor about the responsibility of arranging for the transportation facility. Raw materials and other building goods have to be transferred to and from the construction site. This can add up to a huge sum of money and therefore you must have clarity about who is going to bear the cost of transportation before finalizing the PEB order.
2. The arrangement for labour accommodation
Skilled labours are required to assemble and erect a Pre-Engineered Building structure. These labour normally reside near the construction site for easy access and lesser transportation time and cost. Arranging for their accommodation also requires a certain budget and can affect the total costing of your Pre-Engineered Building project. So before finalizing any PEB offer you should clarify with the vendor who is going to arrange for the labour accommodation.
3. Check the scope of crane and hydra
Crane and Hydra are used while loading and unloading of building materials. The cost of these machines can have a significant effect on the cost of construction of your Pre-Engineered Building project. So you must establish a precise understanding of who is going to arrange the crane and hydraulics to avoid any confusion with the vendor and to be clear about the total cost of construction.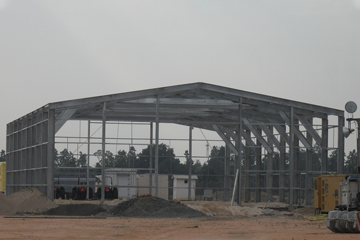 Crane & Hydra for loading and unloading goods
4. Check whether the colour coating on steel sections is done on-site
For a faster and smoother process of construction, before finalizing the offer with any PEB vendor you must clarify with the vendor whether the colour coating on steel sections will be done on-site. Usually, a coat of colour is applied to the steel sections in the manufacturing plant and another coat is applied to the materials on the site of construction to cover up any flaw caused during transportation.
These are a few tips you must keep in mind before finalizing a Pre-Engineered steel building project offer by any PEB vendor to avoid any confusion during the construction process and to keep the cost of construction within your budget.
In my next blog, I'm going to discuss the details of some agencies that are required for the successful execution of your PEB project.
Adi Durga Steel Raipur is one of the leading steel manufactures in Eastern India. We have been in the steel industry for the last 30 years and have completed about 250 PEB projects in the last 10 years. With the support of advanced technology and years of experience, we make it our duty to deliver safe, efficient and affordable constructions and provide you with the absolute support possible.