The construction of a PEB project requires the assistance of several outside agencies like civil vendors, steel and cement vendors, architects, racking vendors in case of warehouses and shutter vendors for complete and successful execution.
In this blog, we're going to discuss about such outside agencies and how we at Adi Durga Steel can assist you in finding the best deal possible and minimizing the cost of construction of your PEB project.
1. An architect for proper land layout
In order to carry on with a PEB construction project, one needs to appoint an architect for the proper utilization of your land keeping in mind the scope for future expansion and altercations. Architects help in designing a proper layout for a piece of land and also in getting government approval for the aforesaid design. They can guide you technically in the initial phases of the construction work.
We at Adi Durga Steel aim to help our customers in all possible ways and therefore we provide them with the skilled and trusted architects that we have worked with on our past projects.
2. Civil vendors for on-site execution
Civil vendors come into the scene once the civil work of the Pre-Engineered building(PEB) starts for the on-site execution of the work.
We provide you with the contacts of different civil vendors in different cities across Eastern India who can properly execute the civil work of the Pre-Engineered steel building. You can then directly deal with the civil vendors and place your order accordingly. We provide this assistance to make sure that your PEB project runs smoothly.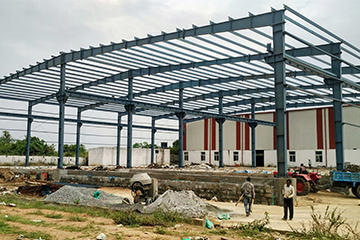 An ongoing PEB construction
3. Steel and Cement vendors for raw materials
For raw materials like steel and cement, we at Adi Durga Steel provide you with the contact details of the steel and cement vendors with whom we have worked in our last projects in order to minimize the cost of buying and construction. We also provide you assistance while negotiating with the steel and cement vendors to make sure that you get the best deal possible.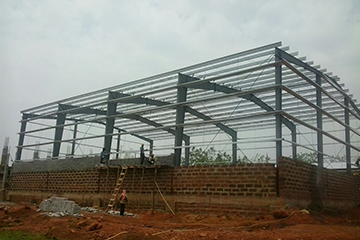 Steel is the building frame of any PEB
4. Experienced Shutter Vendors
Shutters as we all know are very important every Pre Engineered Construction (PEB). They are the doors to your warehouse. A varied choice of shutters are available for one to install in the warehouse. Having worked on around 250 PEB projects in the past years, we have built stable relationships with many vendors including shutter vendors and have ample reliable contacts. Getting you in touch with experienced shutter vendors with whom we have worked with on our past PEB projects is our responsibility..
5. Racking Vendors for Racking solutions
A warehouse once finished, needs to be fitted up properly for usage. Mostly waehouses are used for storage and racks are the best way to store. Racks help to properly organze and store goods. If you want to build a PEB warehouse for rental purposes, we make sure to provide you with the contact details of experienced racking vendors who can design and build proper racks for storing goods in your warehouse.
At Adi Durga Steel when we associate with you as our customer we aim at building a long term relationship and provide you with all the necessary help to make sure that the construction work of your PEB project runs smoothly and you need to pay the minimum cost of construction.
We hope that the above tips will help you to understand the details of the agencies required for the successful execution of a PEB project and will benefit you in your next construction work.
Adi Durga Steel Raipur is one of the leading steel manufactures in Eastern India. We have been in the steel industry for the last 30 years and have been associated with PEB constructions from the last 10 years. Till date, we have worked on about 250 Pre-Engineered steel building projects in various private and government sectors. With the help of our experience and advanced technology, we make sure to deliver safe, efficient and affordable constructions, that would satisfy our customer's structural needs and aesthetic needs.