Tips to Construct PEB Warehouse for Rental
Warehouses are huge buildings used to store manufactured goods before their distribution for sale. In earlier times they were mostly built with bricks and mortar. But with the inception of sustainable construction, Pre-Engineered Steel Building technology came into limelight in the warehousing segment.
Currently, PEB warehouses are more preferred in the market because of their numerous advantages such as cost-effective, faster delivery, faster installation, less maintenance, provision of expansion, superior quality, and so on, which have become significant for any type of warehouse construction. PEB also gained popularity for developing warehousing sites because of the recyclable nature of steel used in the buildings.
Here we are going to discuss a few points to take care of while building an optimum PEB warehouse.
1. Clear Height of the PEB Warehouse
Most of the E-Commerce companies rent warehouses to store their goods during or after the manufacturing process and before their distribution. So these goods are stacked in the warehouses. Therefore a height of 10 meters to 12 meters is considered optimum in these warehouses for the proper stacking and storage of materials.
Clear Height for storage of goods
2. Design proper flooring of the PEB
The floor of the PEB is as important as its other structural parts and has the most human contact, therefore it has the most chances of wear and tear. So, PEB warehouse manufacturers should use VDF or FM2 technology to make the flooring. Also, most E-commerce and Third-party logistics companies specifically look for there provisions while renting a warehouse. So it's better to build according to the market demands.
3. Build a continuous canopy in the Warehouse
Since the warehouses are mostly for storage purposes, therefore a lot of loading and unloading work takes place simultaneously across the bays. Hence it is advisable to build multiple docks in the warehouse and design a continuous canopy across these docks. The requirement of this continuous canopy is basically to protect the goods in the trucks from getting drenched in the rain.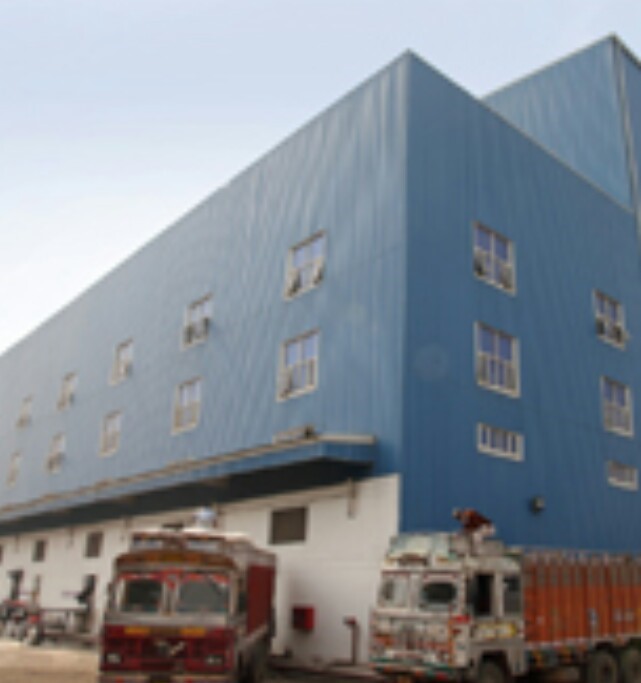 Continuous Canopy in Warehouse
4. Build more Openings or Docks in the warehouse
Loading and unloading operations in a warehouse is a common affair. So it's recommended to have multiple docks or openings in warehouses so that more vehicles can load and unload simultaneously. This is important for faster loading and unloading operation and a smooth working process.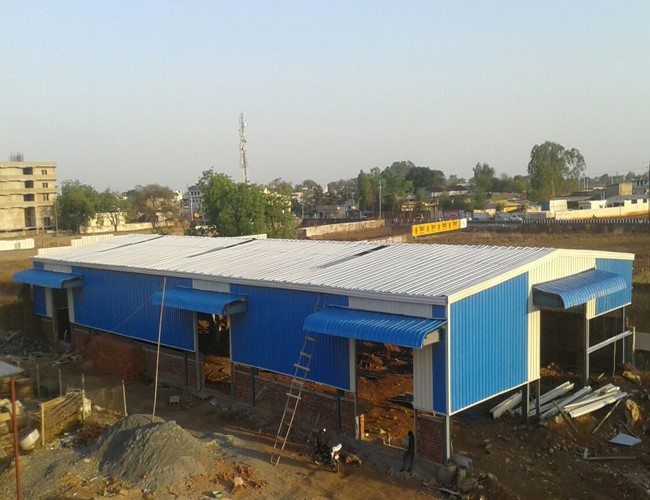 Multiple Docks in Warehouse
5. Dock Height in the PEB Warehouse
A loading dock or loading bay is an area of a PEB warehouse where goods vehicles are loaded and unloaded. The dock height refers to the standard height from the ground to the floor of a warehouse. It is ideal to keep the dock height of a PEB to 3 feet. This ensures that the cargo bed of the trucks directly touches the floor of the dock and makes it's easier to load and unload goods from the trucks.
6. Install an insulated shed in the PEB Warehouse
Reflective Foil Bubble Insulation is the most practical form of thermal insulation technique that is employed in PEBs. It provides a dry, neat and easy installation of the insulationmaterial and works as a barrier to moisture, reflects heat and so on. Bubble insulation sheets reflect 90% to 95% of radiant heat and provide temperature stability in the building during any kind of environmental change. This provision of temperature regulation is very important for a steady work system especially in the sites of extreme climate conditions.
7. Fire Safety provision in PEB
It is important to take fire safety measures in all kinds of buildings including PEB Warehouses. Especially with the current increase in the number of fire mishaps, it is necessary to employ fire fighting supplies like Fire Hydrants and Sprinklers as precautionary measures.
8. Keep all Documents Ready and Updated
It's advisable to keep all documents and NOC ready before looking for rental investments. Most e-commerce companies look for all these documents before agreeing for a deal and these documents require a lot of time to get sanctioned, so it's better to arrange them beforehand for a hassle-free rental procedure.
Hope that one can utilize these measures while building their next PEB Warehouse and have an easy rental procedure.
Adi Durga steel has been constructing Pre-Engineered Buildings for the last 10 years and has an outstanding experience of 30 years in the steel industry. We use advanced technology and manufacturing strategies to make safe, profitable and inexpensive constructions and to efficiently satisfy a wide range of structural and aesthetic design requirements.