Facts That Prove How PEB Is Better Than On-Site Fabrication
Commercial on-site fabrication utilizes traditional building methods where all the work is done sequentially on the site of construction. But on-site fabrication is not the only commercial construction technique to consider. Pre- Engineered Buildings are constructed using off-site construction methods and offer various advantages that make it a viable option to consider while building a structure for commercial purposes.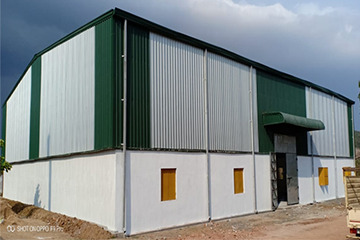 Cashew Factory in Berhampur, Odisha
In this blog, we are going to discuss a few factors that make PEB structures better than on-site fabrication.
1. Design of the PEB is Optimum and Safe
The design of the PEB is decided as per requirement and as per the atmospheric conditions like wind speed and earthquake. So, they are made for optimum usage and are structurally safer. Whereas in on-site fabrication, the design is heavy and decided as per the local fabricator. They also use standard sections of local brands like IMSB, ISMC, and so on, for the design which give the buildings a general structure and cater to no special utility or safety measures.
2. Civil Foundation Cost of PEB is Less
The foundation cost of any structure basically depends on two factors,
Lesser number of columns bring less load on the PEB shed which can bring about 23% savings in the cost of manufacture of the PEB.
In fabrication, the load is more which requires stronger foundation support and increases the foundation cost. Whereas in PEB there are separate sections which mean that the load can be divided and this reduces the construction cost significantly.
3. Cost of PEB construction is Pre-defined
One of the major factors that one needs to keep in mind while constructing any commercial structure is maintaining the budget. On-site fabrication seems cheap at first. But as the construction goes on there can be wastage of about 15-17% due to an uncontrolled atmosphere. Also, the price of steel in the market fluctuates randomly which can bring about additional costs. Whereas the cost of construction of PEB structures is finalized before the construction begins which makes it easy for one to stick within a budget.
4. Quality of PEB Structures is Superior
Components of PEB structures are made in factories and are of superior quality as they are made with the latest welding technology and undergo strict quality checks. Whereas, in on-site fabrication, the structures cannot retain such high quality due to various atmospheric factors and human errors.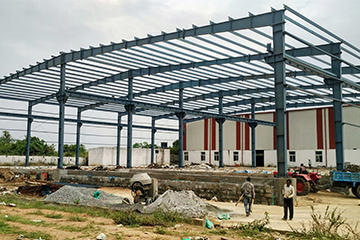 5. On-time delivery of PEB Projects
The investment and rate of interest involved in the construction of PEB structures are quite high. So it becomes quite important that the projects get delivered on time. PEB manufacturing ensures on-time completion of the projects which exterminates the chances of additional costs due to delay in delivery. This can never be ensured in case of on-site fabrication as it solely depends on the situations during the time of construction.
6. Easy Execution of PEB construction
The construction of PEB structures is very easy in comparison to on-site fabrication. PEB structures are assembled on the site of construction with nuts and bolts and therefore is easy to dismantle and shift the structures as per the situation demands. Whereas on-site fabrications are permanent structures and therefore it is difficult to shift or make changes in them.
7. PEB construction is Fast and Hassle-free
Another factor that makes PEB better than on-site fabrication is that the construction of PEB structures does not require a personal overview. Once the design, cost and other such parameters are decided, the professionals start the construction work. Moreover, PEB structures are assembled at the construction site which makes the procedure faster and efficient in comparison to on-site fabrication which requires a constant overview.
These were a few points to show why one should choose PEB over on-site fabrication to build commercial structures. We hope that this information would prove to be helpful to those who are confused between PEB and On-site fabrication.
Adi Durga steel has an experience of 30 years in the steel industry and has been dealing with the construction of Pre-Engineered Buildings for the last 10 years. We use advanced technology and manufacturing strategies to make safe, efficient and inexpensive modular constructions.