The purpose behind any construction is to make sure that it lasts long and serves its purpose adequately. In my previous blog, I have discussed with you how to cast an anchor bolt properly as it is one of the major components that provide strength to your Pre-Engineered steel building.
In this blog, I'm going to discuss a few points that give strength and stability to your PEB structure. We at Adi Durga Steel also follow these steps to the point which is why we proudly say that we can provide you a guarantee certificate on your Pre-Engineered steel building.
To make you understand better, I'm going to divide these points into two categories, namely -
• Designing of the PEB
• Erection of the PEB on site
Let's now look into the nuances of designing and onsite erection of a Pre-Engineered steel building. If you want your PEB to last long and be strong enough to withstand the load, you need to start taking measures for it from the designing phase till assembling it on the site of construction.
Some of the things that you need to take care of in designing are -
1. Design as per the required parameters
The designing of the building should be done as per required parameters such as strength, quality, wind speed, load, and so on. I have already discussed the ideal shutter size as per wind speed and other factors that can help to strengthen your PEB structure, in my previous blogs. Do check them out to know more about these things.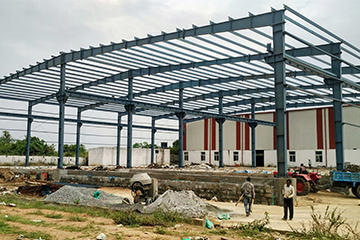 Design of a PEB
2. Use of high-quality materials
To build a strong and long-lasting PEB structure you must ensure that the quality of materials used in HR is branded and on par with the design parameters. We use top quality materials from brands such as Sail, Tata, Jindal, and so on to make sure that all the components of your Pre-Engineered steel building are strong, long-lasting and can bear adequate loads without any wear and tear.
3. Quality of Nut bolts and screws
The quality of the nut bolts, screws, and fasteners used should be on par with the design of the PEB structure. At Adi Durga Steel we use nuts and bolts of strength tested brands with the required grade to make your Pre-Engineered building strong and long-lasting. For sheeting purposes, we also take care to provide screws with washers.
4. Using high quality of Consumables
While constructing a PEB we make sure to use high-quality consumables in welding and other fabrication processes. We check the density and thickness of the welding coil used and make sure that it is good enough to be used in your steel building. We also make sure that the thickness of the electrode is adequate and it is pore-free and the flux used in the wiring of your PEB is as per SAW coil. Industrial machines used in the designing and construction of the PEB play an important role in the stability of the structure. At Adi Durga Steel we use quality machines like CNC for cutting, SAW for full welding, and so on to make the designs precise and provide a guarantee certificate.
5. Use of Quality Paints
The paint used in a Pre-Engineered steel building plays a pivotal role in protecting the building against rust, wear, and helps it to last longer. As a major dealer of steel goods, we know the measures to be taken to protect your PEB structure from outside agencies like moisture, rain, and so on. We use high-quality paints from renowned brands like Berger, Asian and equivalent brands that have a micron coat to make your PEB rust-free.
No matter how high-quality materials you use, the quality of the erection of your PEB should be good too, to make the building strong and long-lasting.
There are a few points that we at Adi Durga Steel take care of during the execution of a PEB structure and you should too.
Let's look into them!
1. Machines and Tools used in Erection of PEB
The machines and tools used in the erection of your PEB play an important role in the quality of the finished project. By using advanced tools and machines for the sheeting and finishing of the Pre-Engineered steel building like an electric screwdriver for tightening of nuts-bolts and screw gun machines for screwing you can ensure a better quality of construction. The alignment of the building should also be done with the correct method and sequence to make sure that the structure is balanced and can withstand strains like earthquakes and other natural calamities.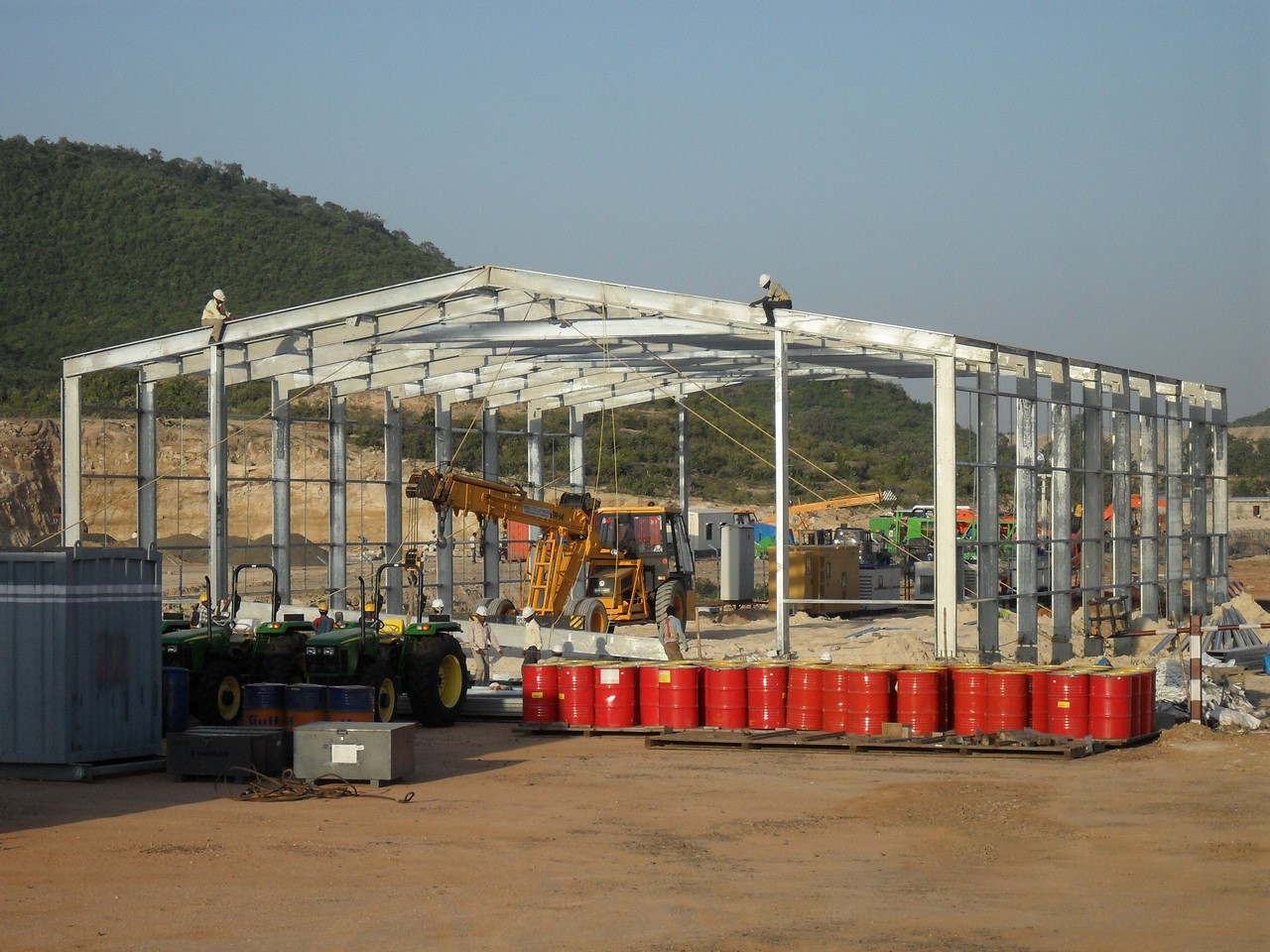 Different Machines used during Erection of PEB
2. On-site Safety Materials
Any kind of construction work requires some human involvement and physical labour. It is our duty to look after the well being of the people who work for us. In today's scenario, with the raging pandemic, taking safety precautions has become even more important. We have taken extensive measures to ensure that our employees stay out of harm. We have made the use of safety materials such as PPE, double loop harness, lifeline, safety net, scaffolding, ladder, and so on mandatory on and off-site for our employees.
3. Following Inspection Protocols at stages of Erection of PEB
During the erection of a PEB structure, any minor human error can result in a bigger catastrophe, like if the civil column is bent beyond the tolerance limit after the anchor bolt casting, we have to break and rebuild it. To avoid such errors and the extra incurring expenditures, we check the construction or erection of the PEB in all stages. We verify the on-site work with the pre-defined inspection points for structure and sheeting to see if the construction matches the standard level.
4. Using high-quality Accessories
Accessories are installed in a PEB or any building to elevate its aesthetic value and provide additional comfort in the living or working space. We take special care to install high-quality accessories with a guarantee certificate in your PEB. We check various standards like the thickness, material used, strength of the accessories such as insulation, skylight, turbo vent, and so on, used in the building, to make sure that they last long and match the aesthetics.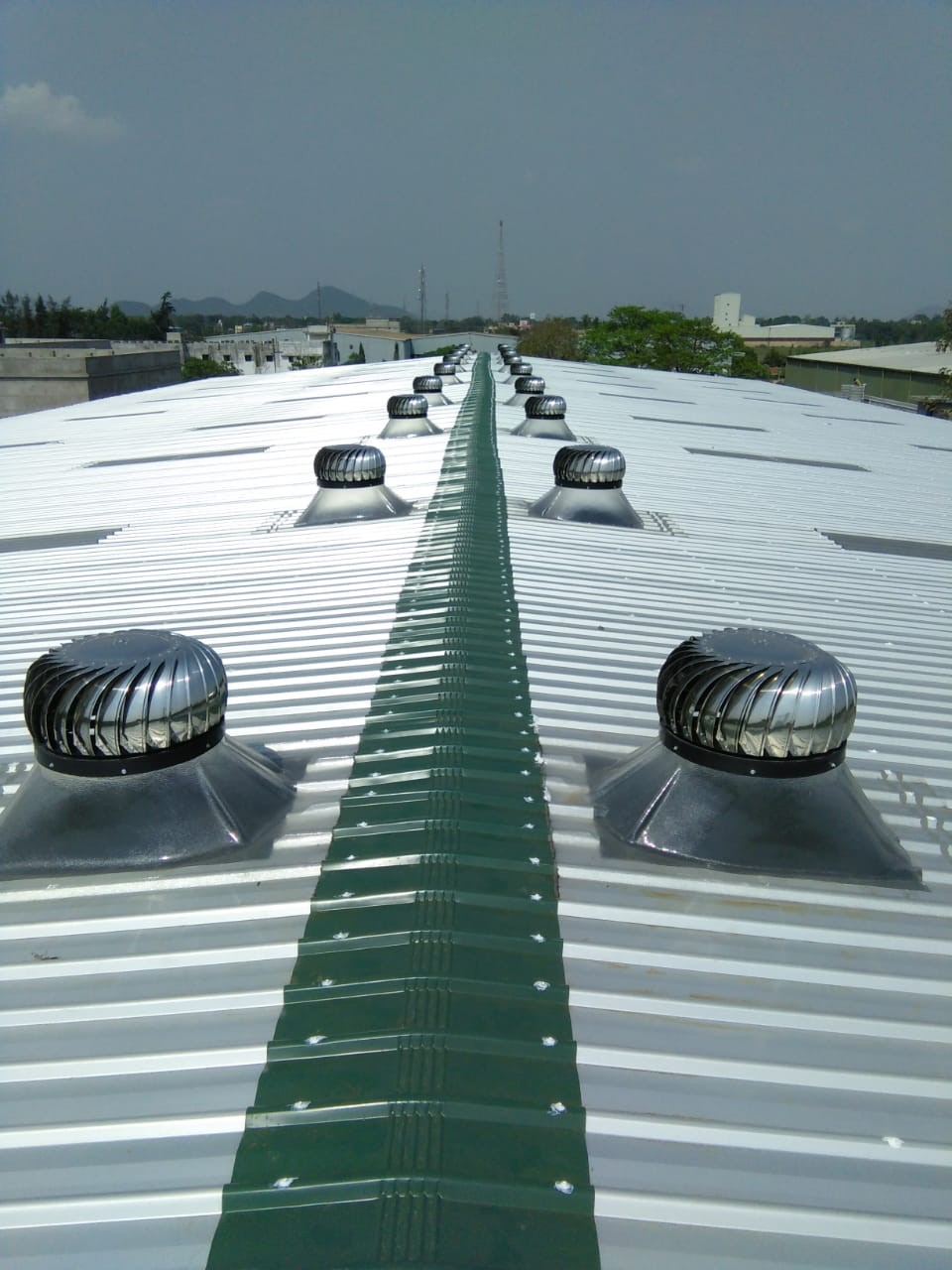 Accessories like Turbo Vents installed in PEB
The quality of a building and the PEB project can be determined after considering all the above-mentioned points and we take special care to construct buildings as per the industrial standards. Adi Durga Steel is a renowned name in the steel enterprise and we provide 20 years of structural guarantee certificate.
Adi Durga Steel is one of the leading steel manufacturers with a market experience of 30 years and has been dealing with PEB constructions for the last 10 years. Till date, we have worked on about 250 Pre-Engineered steel building projects in various sectors and can help you to build a safe and affordable civil or PEB construction that would satisfy your structural and aesthetic needs.